Topics

photos

biographics

letterpress

pike

hyperlinks, etc

projects

contact info

sourcehut: hg

sourcehut: git

GotPike?
Recently Changed
Recent Albums

Baltimore 2015

Europe 2014

Christmas Markets 2014

Poster Art

Albuquerque 2014
Interesting People
James
JZ
Deff
Bertrand

Subscribe
Powered by
FinScribe
letterpress
> monotype inventory
'Monotype' inventory
Created by hww3. Last updated by hww3, 9 years ago. Version #28.
This page briefly describes the 'Monotype' equipment currently residing at the Chestnut Press and Typefoundry. Some of the information included here in order to provide historical context. There are 4 composition casters, 3 English and 1 American. Also present are an American Thompson foundry style caster as well as an English Super Caster and a Super Caster carcass.
Caster 22441 (English) was first supplied to A.Thom, Dublin 13 July 1948. It was then return to Monotype for allowance in 1968 and went into the Printing Dept at Salfords. Certainly I was much involved in the mid 1980s when Harold Berliner bought a great deal of matrices at that time when the Printing Dept was closed and I guess he purchased the Caster then. The machine was originally supplied fitted with Display and leading attachments which presumably are still on. During its time at The Monotype Corporation, this machine appears to have been rebuilt, gaining the indication "R" on its serial number.
[1]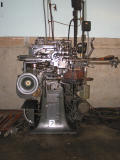 Caster 28276 (English) first went to Advertizing Agency Services Co, New York in November 1964. They sold it to Daguerreian Era of Pawlet, Vermont in 1975 but I have no further information on it.
[1] In any case, it eventually found its way to Harold Berliner's foundry in Nevada City, California before arriving at our shop.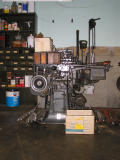 Caster 28773 is an English 16x17 machine, equipped with the unit adding and display attachments. It came to The Chestnut Press via the Woodside Press of Brooklyn NY and Mouldtype of Preston UK. [2]
~~Composition Caster 138336 is a 15x17 machine, and was fitted with a gas fired pot. The gas pot, along with certain other details suggest that this machine was originally built before the second world war, perhaps as early as the 1920s. The machine carries an "R" in the serial number, indicating that it was rebuilt at some point. A new manufacturers plate was attached at that time, with the company listed as "Lanston Monotype Machine Company, a division of Lanston Industries, Philadelphia". Lanston Industries was formed in 1956, so the machine presumably was rebuilt sometime after that date but before the company left Philadelphia in the early 1960s. The machine came to me from David Klinger, and was formerly owned by XXXXX, who apparently performed a good deal of printing for DuPont.

~~Thompson type caster NNNN is equipped with a gas fired pot and came to me from Heritage Letterpress of Charlotte, NC. Super Caster 72588 was originally sold to Tapp & Toothill Ltd of Bramley, Leeds, on Oct. 10, 1971 [2]. It's a very late model caster and is equipped with the somewhat unusual "F. U." variable speed drive, rather than the much more common Varigear. I received this machine via Woodside Press and Startype (Brian Horsfalls) of Yorkshire, UK [3]. Super Caster 70268 (currently sitting as a somewhat stripped frame) is a very early machine, sold to Manchester Typesetting Co., Manchester, England on May 30, 1935 [2]. This machine came to me via the Woodside Press of Brooklyn, NY and Mouldtype of Preston, UK [3].
Sources:
[1] Duncan Avery, Monotype Hot Metal, London, UK
[2] Dan Jones, Newmarket, Canada
[3] Howard Bratter, Woodside Press, Brooklyn, NY