Topics

photos

biographics

letterpress

pike

hyperlinks, etc

projects

contact info

sourcehut: hg

sourcehut: git

GotPike?
Recently Changed
Recent Albums

Monotype molds

Baltimore 2015

Europe 2014

Christmas Markets 2014

Poster Art
Interesting People
James
JZ
Deff
Bertrand

Subscribe
Powered by
FinScribe
start
>
2005-04-14
> 1
Arrival of the machines
Created by hww3. Last updated by hww3, 19 years ago. Version #1.
I've received some photos of the machines as they were delivered earlier this week. Hopefulyl the inside of the crates will be in good condition too!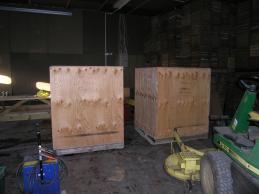 Attachments
This page (start/2005-04-14/1) contains 1 Attachments
| | | | | |
| --- | --- | --- | --- | --- |
| Name | Type | Size | Updated | Updated By |
| crate2.jpg | image/jpeg | 8 kb | Thursday, 3 November 2005 | Bill Welliver |
Posted in
letterpress
|
RSS Feed
|
BackLinks